Understanding The Core Surgical Training Interview Portfolio Station
Before you enter the portfolio station, the assessors will have spent 10 minutes reading through your portfolio and validating portfolio checklist. You will have been asked to complete the Portfolio Checklist prior to the interview station and insert it into the front of your portfolio. Much of the scoring is achieved before you enter the room following the self-assessment questions.

There are no set questions asked by interviewers rather questions will centre around the contents of your portfolio and the completed checklist.

The core surgery interview portfolio station is designed to assess past achievements, commitment to surgery and career progression to date. It is also an opportunity to display your presentation, teaching and organisational skills.
In addition to your eligibility documentation, you will also need to bring your portfolio to the CST interview. Your portfolio should contain documentation of any achievements and qualifications you have quoted on the application form and also evidence of how you meet the essential criteria set out in the Person Specification. Each applicant must complete the Portfolio Checklist and place at the front of the folder, prior to attending the interview.

All claims made on your application form or portfolio checklist such as a published article, a prize awarded etc must be supported by evidence in your portfolio that can be verified by the interviewing panelists. Any claim not backed up by evidence in your portfolio, will be raised in the interview and if found to be false, may result in rejection or further action. No marks will be given if there is no evidence in the portfolio.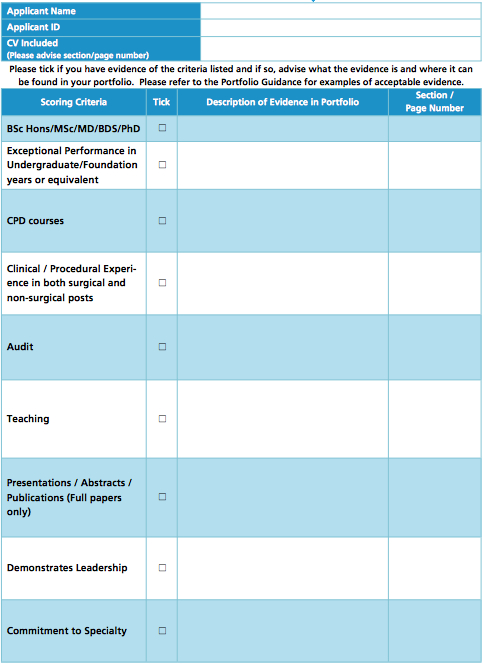 The majority of the marks awarded for the Portfolio station are scored before you even enter the room. Knowing what is required to score points ahead of time is key to maximising your score in the Portfolio station.

Interviewers have only 10 minutes in which to scan through your CV and Portfolio. Having a well-prepared, clearly structured Portfolio in which items can be quickly located will help you score marks and make life easy for the interviewers. There is even a scoring box specifically for portfolio organisation!
Purchase a nice ring binder well in advance and do not underestimate the time it takes to assemble your portfolio.
We have included the portfolio scoring guidance as it appears in the self-assessment area for convenience. Interviewers will ask questions to help identify key criteria to score against. It is vital that you sell your achievements and have a good framework and structure for delivering answers under pressure.
The way your structure and present your CV is really important as interviewers will use this as a quick indicator on the day. Our question bank includes CV and portfolio analysis.
Core Surgery Portfolio Guidance
The Core Surgery Handbook provides guidance regarding the kind of evidence expected and how it should be presented in your portfolio:

• Use one lever arch file for all your documents
• Include your CV
• Place the portfolio checklist at the front of your folder so panelists can easily locate evidence
relating to the Person Specification
• Place an index in the front of the folder areas of your Portfolio that you would like to
highlight. This should be clearly numbered to match the Portfolio checklist. Use marker tabs
so that sections can be found quickly
• Use bullet points to list each item of evidence under each section of the portfolio checklist.
The checklist should be completed electronically and printed
• Include a printed copy of your application form (excluding the sections relating to equal
opportunities and references)
• If you use plastic wallets make sure documents can be easily removed and examined by panel
members
• Don't include any patient identifiable data or items/information that are not yours (e.g.
someone else's work or hospital guidelines)
• Although many trainees are now using e-Portfolio, hard copy portfolios are required for
interview. Print relevant documents only, not your whole electronic portfolio. Use a Proforma
to provide an executive summary of publications, presentations and teaching undertaken.
• Bring foundation training portfolios or evidence of completion of educationally approved
Senior House Officer, specialty training or fixed term specialty training (FTSTA) post(s) in the UK.
Core Surgery Interview Portfolio Station Top Tips
Invest in a nice faux-leather A4 binder, plastic wallets and dividers in which to build your portfolio
Construct a contents page that mirrors your CV and add sub-contents pages at the beginning of each section to make it easy for the interviewers to find your documents
Know your Portfolio inside-out and make sure that you can direct interviewers to important publications and evidence quickly
Spend time re-reading old audits, presentations and publications. Anything included in your Portfolio may be discussed by the interviewers and it is important that you can recall data and results from projects you undertook several years previously
Try to keep your portfolio concise with only evidence that will score points included. Having a large binder may look impressive but it can make things difficult to find for the interviewers
Be honest with everything on the portfolio checklist and make sure you have included sufficient evidence to back it up
Think about what your key selling points are and what makes you stand out and focus on these attributes