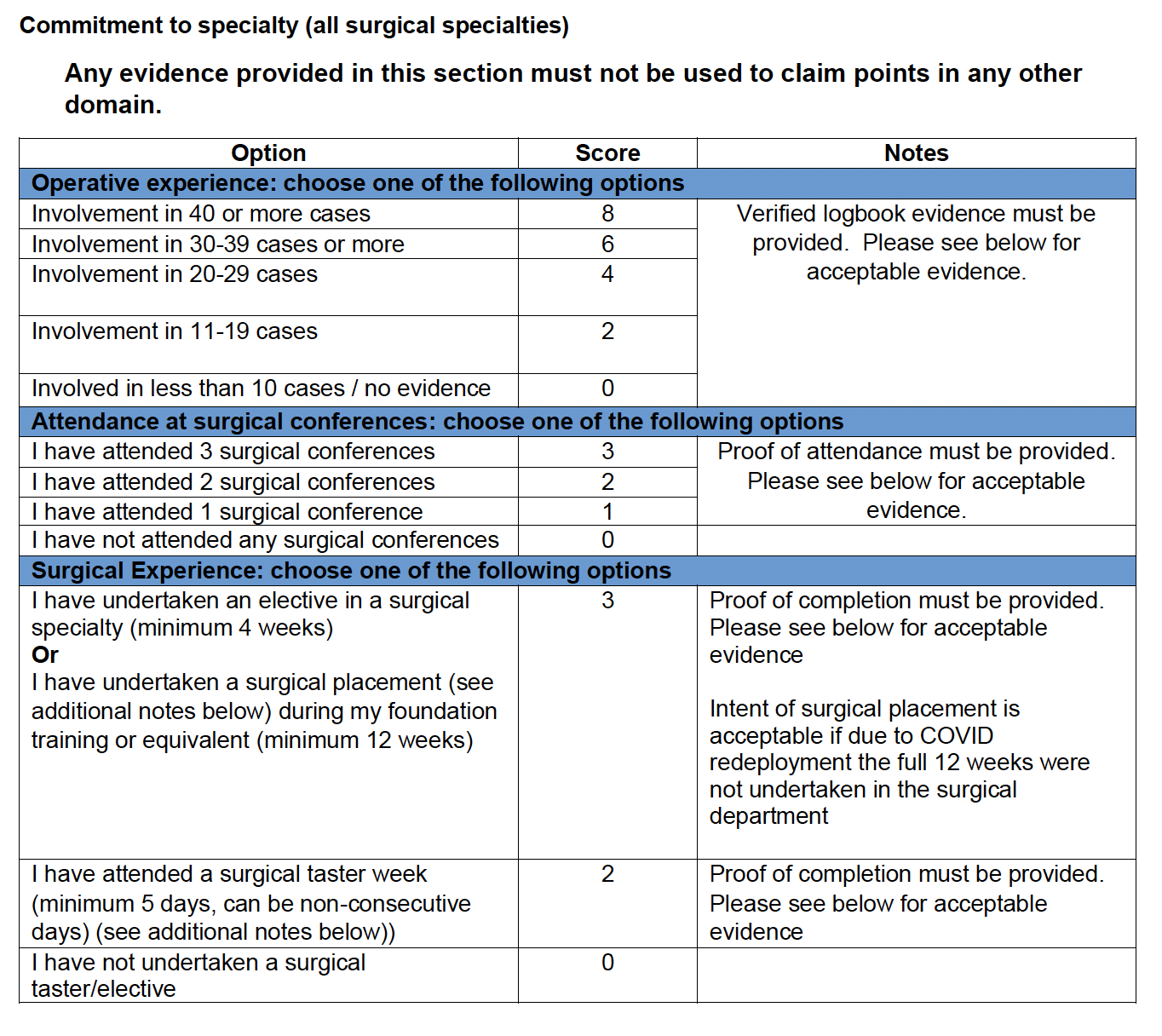 Any evidence provided in this section must not be used to claim points in any other domain.

All achievements used to claim points in all sections must be completed by time of application. For example, a surgical taster lasting 4 days carried out in a previous year would give 3 points, whereas a 5-day surgical taster booked for 2021 awards 0 points.

Evidence of surgical courses
Examples of accepted courses are:
- Basic Surgical Skills (BSS)
- Systematic Training in Acute Illness Recognition Training (START Surgery)
- Advance Trauma Life Support (ATLS)
- Surgical Skills for Surgeons
- Royal College of Surgeons Summer School in Anatomy
- Practical Skills for Medical Students
- Regional Surgical Skills Course / Symposium, may be in ENT, General Surgery, T&O or Urology
- So you want to be an Orthopaedic Surgeon
- Clinical Skills for Examining Orthopaedic Patients
- Temporal bone course
- FESS (Sinus surgery) course
- Head and Neck anatomy / surgical dissection course
- Urology National Catheter Education Programme (NCEP)
- ASIT Preparing for a Career in Surgery
- ASIT Foundation Surgical Skills
- British Medical Association surgically themed courses

Evidence of surgical experience
All surgical experience should be evidenced by ISCP operative logbook summary sheets that have been signed by a consultant showing their name, GMC number and the date the consultant validated the Summary Sheet. Please do not provide a copy of your entire logbook.
You evidence should demonstrate involvement in a range of different surgical procedures of varying complexity. Your personal involvement can include assisting or trainer scrubbed at an operating table but must not include procedures that all UK trainees are expected to have signed off as part of their foundation competencies.

Evidence of surgical taster
Up to 5 working days (whole time equivalent) of surgical taster sessions can be counted. Any taster sessions lasting less than one day will not be scored. You will need to provide a reflection (minimum of 200 words and maximum 250 words) explaining what your taster involved and your learning from it.

Surgical elective
If you have undertaken a surgical elective you will be required to provide a reflection (minimum 200 words and maximum 250 words) including the elective dates, hospital, name of supervisor, an outline of what your elective involved and the learning you have taken from it.