Core Surgery Application Overview
The application for Core Surgical Training is a national process (applications to Northern Ireland are separate) with details appearing online via the specialty recruitment website and Oriel in November/December.

From 2023 core surgical training selection will use the MSRA exam as part of scoring. The MSRA will contribute 10% of the overall score.

Below is the timeframe for 2023 selection.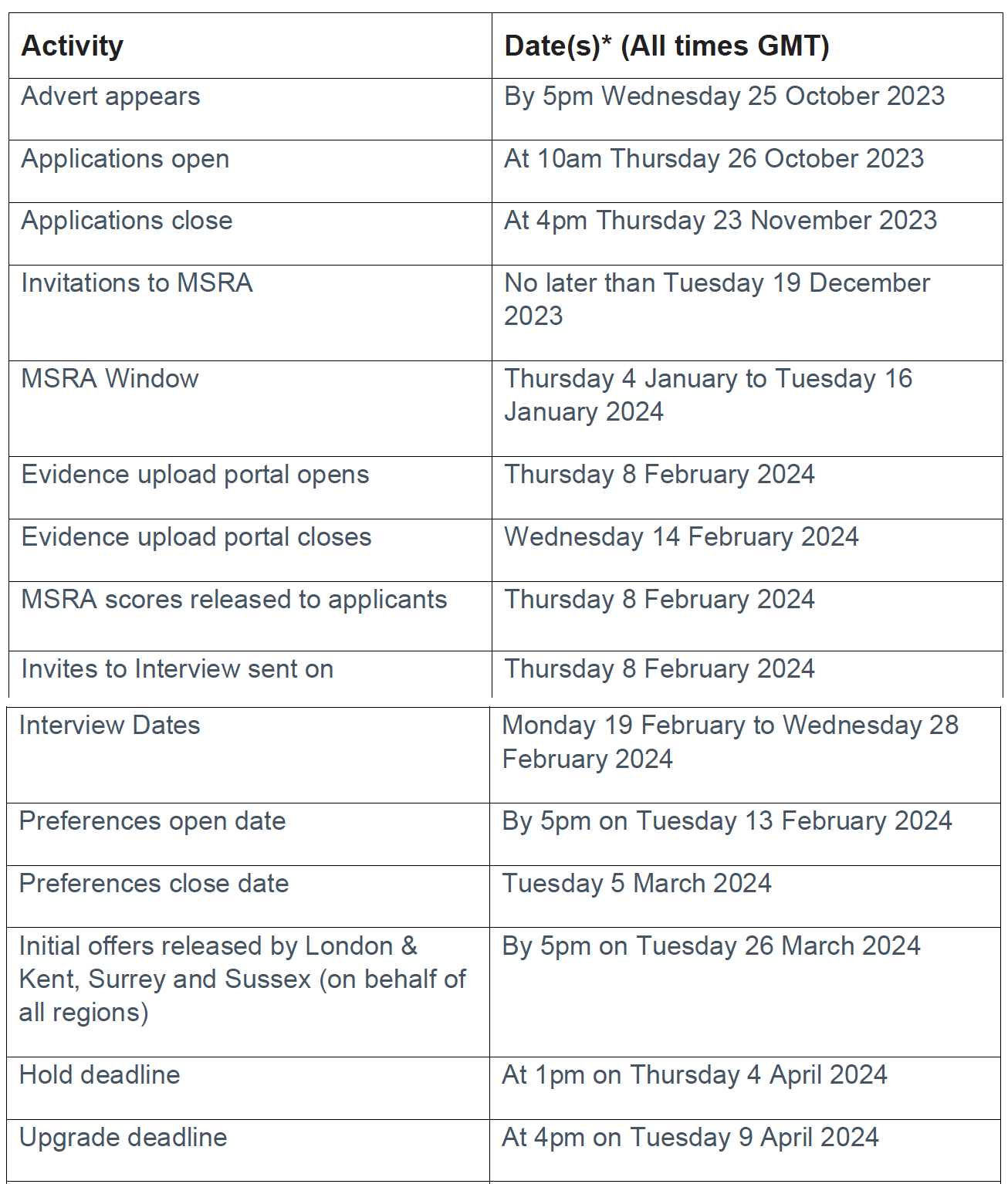 Core Surgery Application Key Dates
The Multi-Specialty Recruitment Assessment (MSRA) exam contributes 10% of your final CST score.

The assessment will be taken in a 2-week window in January 2023 in Pearson VUE assessment centres or online.

Local equivalent centres can be used by those applying from outside the UK and arrangements will be in place for application from those countries where such assessment centres are not available.

Employers are required to release you to take the assessment.

CST Interview are offering a free MSRA preparation service as part of our online interview preparation.
Core Surgery Application Information
All applications for Core Surgical Training are made via the online system Oriel. You will need to register and can make applications across multiple organisations or specialties.
Northern Ireland run a separate recruitment process and this is also be live on Oriel.

The application form has different sections that must be completed:
◊ Personal Details
◊ Eligibility
◊ Equality and Diversity

All applicants to Core Surgical Training , provided they meet the essential criteria of the person specification, are guaranteed an interview.

The essential criteria from the Person Specification include:
◊ Qualifications - MBBS or equivalent medical qualification
◊ Evidence of Foundation Competences
◊ Advance Life Support (ALS) course completed by time of appointment
◊ GMC Registration & licence to practise
◊ Fitness to practise
◊ Right to Work in the UK
◊ Language Skills
◊ Career Progression (and Experience) - less than 18 months surgical
experience
◊ Health
2021 recruitment will involve the following stages:
1. As part of the Oriel application form you will be asked to provide a self-assessment score depending on your personal achievements. Please see advert-linked document '2021 CST Self-Assessment Guidance for Candidates' for full guidance on how to complete your self-assessment scoring.
2. Your self-assessment score, as submitted on your application form will be used to shortlist. The top scoring 1100 applicants (approximately) will then be invited to upload evidence of their achievements to the Evidence Upload Portal
3. The evidence you upload will be reviewed by surgical consultants. They will verify that you have claimed the correct number of points and can change your score if they feel your evidence merits a different score from your self-assessment. This produces your verified evidence score. Applicants will be given the opportunity to appeal, more information on this process will follow after the application closing date.
4. After the evidence verification process is complete, the highest scoring 960 applicants (approximately) will be invited to attend a remote interview
5. A combination of your verified evidence score (1/3 of total score) and scores at interview (2/3 of total score) will be used to determine your final total score and ranking.
Full details can be found in the handbook.
One of the most frequently asked questions regarding the application is how you can demonstrate foundation competencies, especially if you have been out of training or working abroad.

Evidence of Foundation Competences can be demonstrated in 3 ways:

1. If you are currently undertaking a recognised Foundation programme in the UK which is due to finish in the year of the interviews, you will be asked to confirm the name of your Foundation School. You do not need to do anything else at this stage but will be required to show proof of satisfactory completion of F1 at the interview. If you are in a standalone FY2 post a letter from your Foundation School stating you are on track will be required.

2. If you have completed a UK foundation programme within the last 3 years, you will be asked to confirm that you have been awarded an FACD 5.2. You MUST attach a scanned copy of your FACD 5.2 to your application. You do not need to do anything else at this stage but you will be expected to provide proof of the original certificate at a later date.

3. If you have not undertaken a UK Foundation programme within the last 3 years, you will be able to submit alternative evidence by asking a consultant who has supervised you for at least 3 months prior to the interview year to attest to your achievement of Foundation competency. You MUST attach a scanned copy of your alternative certificate to your application. You will be expected to provide proof of the original certificate at the interview.

If the required evidence is not submitted by the close of applications, the application will be longlisted out with no further recourse to appeal. No late documentation will be considered.
Once longlisting is complete, an email and text message will be sent to all successfully longlisted applicants inviting them to interview. From this point all successful applicants will be able to book an interview slot online via Oriel on a first come first served basis before the specified deadline given.
Greyed out time slots indicate that the times have been picked by other interviewees and are no longer available. All other slots shown can be booked.

You can change your interview time online up until the closing time for interview slot bookings (shown when you book a slot). To change your time slot, log in to your Oriel account and cancel your current booking. You will then be able to book another time slot. Your interview slot includes 30 minutes for checking of eligibility documentation as well as interview time. Please note, other available slots cannot be guaranteed.

Be sure to log on and book quickly. We recommend using an email address to register on Oriel that you check frequently or has push notifications enabled on your phone.
Core Surgical Training Competition Ratios
Core surgical training is competitive. Typically competition ratios for core surgical training are around 2.5/3:1.

This means that for every 2-3 applicants, 1 was is appointed to a Core Surgical Training post. Around 80% of those that apply for core surgery each year are invited to interview and approximately 40% of those interviewed are successfully appointed.

There are between 500 and 600 Core Surgical Training (CST) posts available each year and this number can change considerably each year. Jobs are divided up according to deaneries. Below summarises the Core Surgical Training Competition Ratios over the last few years and the number of jobs advertised.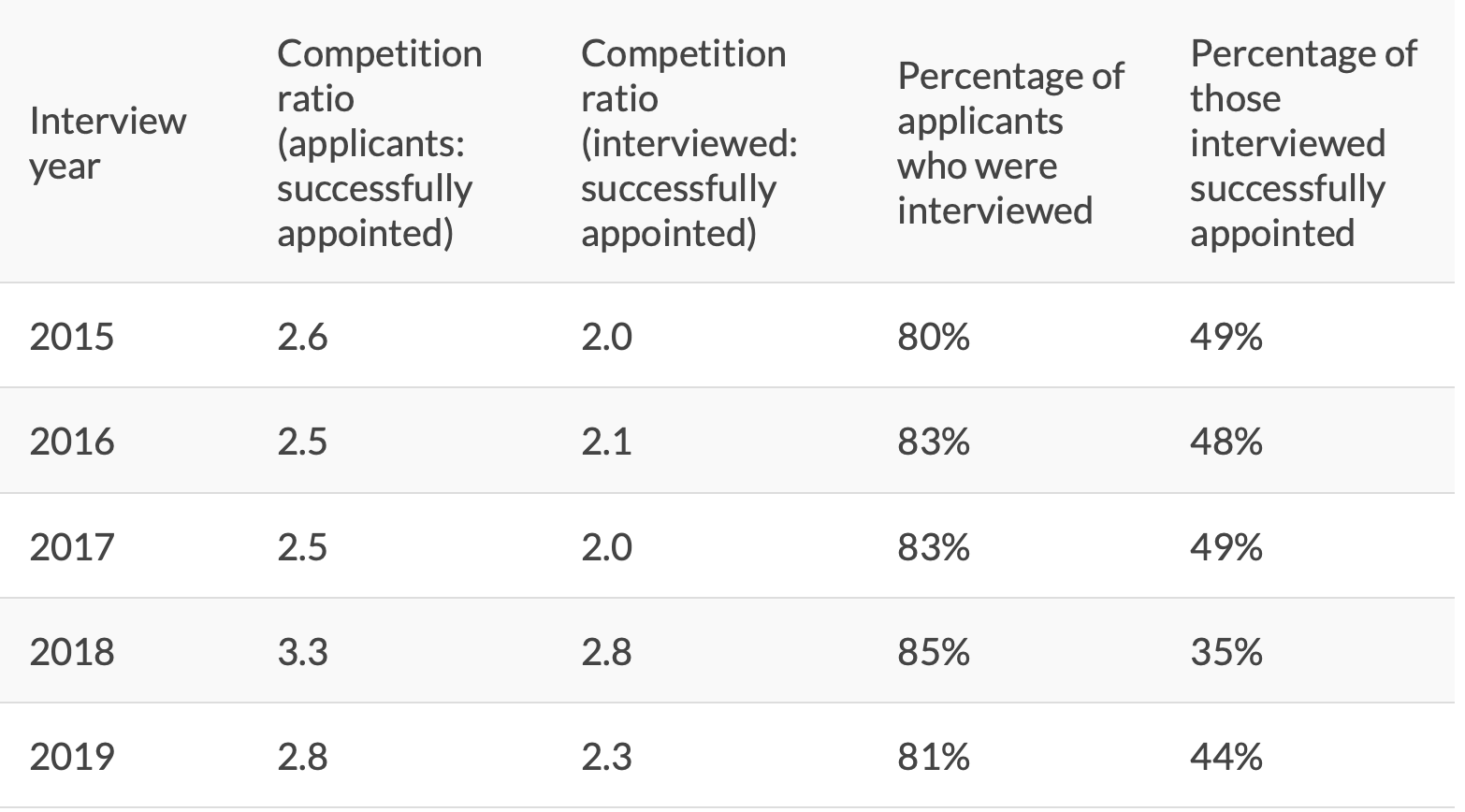 Core Surgical Training Deaneries and Jobs
Indicative post numbers for the next recruitment round can be found on the Oriel advert under the document tab. These numbers are subject to change.

The final post numbers will be released around the time of interview and you will be given a minimum of 5 days to select your preferences. When preferences are opened you will be able to download a spreadsheet detailing the post information. Should you have any questions about rotations of specific posts please direct these to the recruiting local HEE Office or Deanery in the first instance. The number of jobs advertised by deanery averaged over the last few years can be found below.